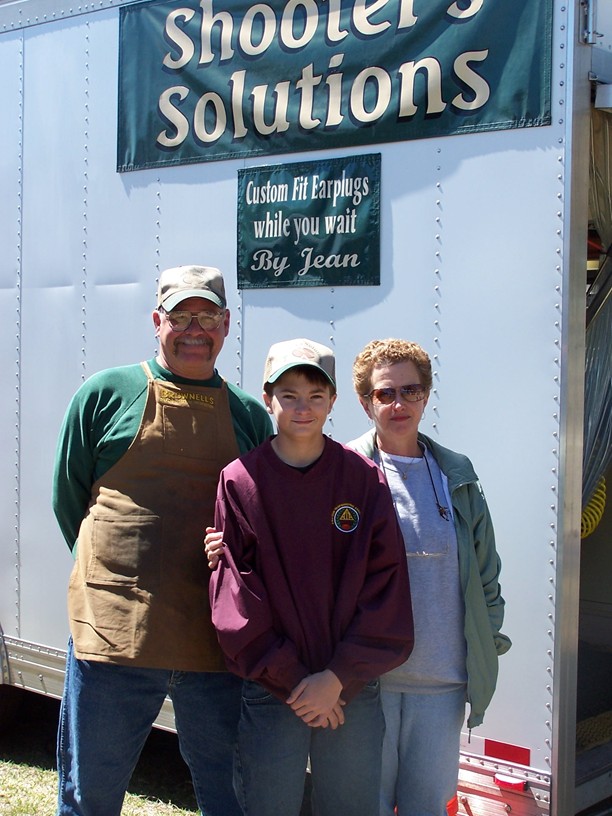 Hi, this is Colton Kant, I live in South Dakota. When I first met Tom and Jean at the 2006 Great Lakes Grand in Mason, Michigan, I was 13 years old and weighed 85 pounds soaking wet. I had just purchased a Perazzi MX11 which had excessive recoil for my small size. Tom installed a Gracoil and also lengthened the forcing cones, then he custom fit the gun to me. Now I can comfortably shoot a 5 to 7 day event. Without Tom's help I would have never made the 2007 All American team or won the 2007 Spring Grand Handicap in Arizonia.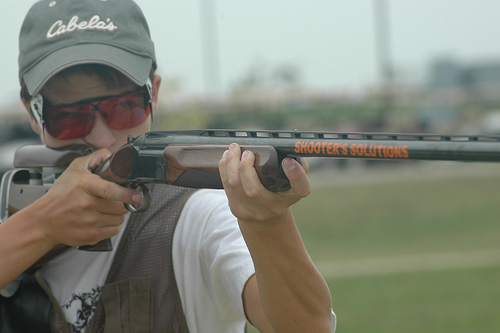 Hi, this Chuck Vermejan of Lady Lake Florida. Prior to the 2008 Hall of Fame and Dixie Grand in Odessa Fl. I had purchased a new trap gun. I had been shooting it for about six months and wasn't happy with my performance. I took the gun to the Shooter's Solutions trailer on Vendor Row and talked to Tom. After a fitting, including a chamber laser to check point of impact he made some suggestions. I agreed to have some modifications done to the gun. I entered the Hall of Fame Shoot and won Senior Vet Handicap. I then entered the Dixie Grand and was runner up for Handicap Champion of Event #8. Gun fit is important and I recommend you give Tom a try. You'll be glad you did.
From Lane Hartle: Just wanted to say thanks for the outstanding work you did on the forcing cones on my Perazzi MX2005 combo. During the Florida State Trap Championships, I noticed my gun was kicking noticeably, and the recoil had an impact on my scores. After you lengthened and polished the forcing cones, I noticed a dramatic drop in felt recoil. On the final day of the shoot, I posted my highest scores all week, in the singles, handicap, and doubles. Even the 1250fps Remington handicap loads felt softer than the 1 1/8 normal loads I was shooting before the forcing cone work. I also like the work you did on my Beretta 391 Teknys. The modified carrier you installed, as well as polishing some internal parts, has completely eliminated the constant jams I was getting. Excellent work! Thanks again....
From Jim Montz, owner of Jim's Guns, Topsham ME: I attended the Keystone Open, Elysburg, PA in May 2008. I had Tom install a Gracoil recoil system with LOP on my Browning XT. The workmanship was flawless, from metal to wood you could not feel or see the slightest gap. I shot my best ever (in heavy rain) doubles with the Gracoil installed. The next day I broke a firing pin in my other XT. Tom exchanged the stocks between my XT's and would not take a penny for his time. He is top of the line for his work and customer service. Jean fitted me with two sets of ear plugs. Her work is also the best there is. I have had other plugs but none fit or performed as good as the ones Jean fitted.
From Bill Goscinski: Thank you Tom, You installed a Gra-coil for me at PA State Shoot. Rush job on Monday, June 9th on Berretta 682. My scores at North Carolina State Doubles was a win with a 91 and win at NC State 16's. Also wins in Tennessee in 16's and Handicap.
From Chris Pearsall, Deland Florida: Adjustable Comb on 870 Remington Pump with extra cut to lower as much as possible, Thanks Tom, Looks Great!! Super job, exactly what I wanted!!
*************
From Bryan Garrison: Dear Jean & Tom,
Thanks a million for everything! Now you can put a face with the voice...and that's one happy face! The job on the gun is absolutely beautiful. I couldn't be happier. I'll be trying it out this evening at Pine Belt. Hopefully Jeff Slimm will be there and help me get it set up properly if he has time. I'm on vacation next week so I'll be having a lot of fun with it. I will be glad to pass along you business cards to anyone who may be interested in having similar work done, especially after they see the fine job you did on my gun. Thank you for the Q20 too. I will definitely give it a try. I'll keep you posted on my progress after I get some rounds in. Thank you again for everything. It has been a real pleasure dealing with you both. Best wishes with your new home.
Best Regards,
Bryan Garrison
*************
I hope this email finds you both well. I was digging through some photos and found a good shot of Bryce at the S.E. College regionals last year. He won the trap, and took a silver in bunker and sporting clays as a freshman. He's a sophomore now and doing well in school and shooting well too. I like this photo, because you can clearly see Shooters Solutions on the barrel. I've continued my coaching education, and am now a level 2 ATA/SCTP trap coach and an advanced USAS trap and skeet coach. Spending time with you helped me make sure the gun is fitting my shooters. Bryce and I really enjoyed our time with you both and hope to do it again sometime.
Matt Liotta
Paris, TN.
*************
I went over to the traps and shot 2 boxes of shells at targets this morning. The first few targets were dust! Then I got over thinking and I missed a few. I probably hit 65% of the targets from 2 different positions. This is great shooting for me! Your Butt plate made a difference. Now I just need to keep practicing and I will hit more. Andy Duffy is here at the house for lessons Wednesday to Sunday, so I know I will be shooting a lot next week. If I take my mind out of it, concentrate on the mount and shoot instinctively I'm pretty good. You made it easier to mount the gun for sure.I'll look forward to shooting my favorite gun the AYA as soon as it comes back.
Lindy & Bill
Orange, VA 22960Sanford
I am not new to shooting, but I am a novice to the Trap Sport discipline. So in early June 2022, I contacted Jean and Tom Hostetler at Shooters Solution, LLC. for a Trap Shotgun fitting. Upon my arrival at Tom and Jean's facility we discussed my goals for shooting Trap and my experience. So Tom and I proceeded to his workshop/classroom. Tom will not begin to fit your shotgun until you understand the dynamics of shooting and the reason fitting a shotgun is so important to be successful in any of the clay sports. So my session with Tom was not only a shotgun fitting, but instruction on how to shoot successfully. In my meeting with Tom we covered everything from eye dominance to consistent mounting the shotgun to the selection of chokes. This was even before we began fitting the shotgun! Tom is a patient instructor and makes constructive suggestions for you to improve. For example, until my fitting session with Tom, I was a one eye shooter. Tom taught me the benefits of shooting a clay bird with both eyes open. I now shoot with both eyes open, hence eliminating the blind spot caused by closing one eye! Am I a better Trap Shooter? Yes, but I also have a better understanding of the dynamics of shooting trap and a great fitting shotgun. Whether I improve or not in this sport is up to me and how much time I spend practicing. So If you are serious about any of the Clay Sports, I highly suggest you come and visit Tom and Jean Hostetler at Shooters Solution, LLC. Tom and Jean, Thank you!
R. Rodriguez
I am not new to shooting, but I am a novice to the Trap Sport discipline. So in early June 2022, I contacted Jean and Tom Hostetler at Shooters Solution, LLC. for a Trap Shotgun fitting. Upon my arrival at Tom and Jean's facility we discussed my goals for shooting Trap and my experience. So Tom and I proceeded to his workshop/classroom. Tom will not begin to fit your shotgun until you understand the dynamics of shooting and the reason fitting a shotgun is so important to be successful in any of the clay sports. So my session with Tom was not only a shotgun fitting, but instruction on how to shoot successfully. In my meeting with Tom we covered everything from eye dominance to consistent mounting the shotgun to the selection of chokes. This was even before we began fitting the shotgun! Tom is a patient instructor and makes constructive suggestions for you to improve. For example, until my fitting session with Tom, I was a one eye shooter. Tom taught me the benefits of shooting a clay bird with both eyes open. I now shoot with both eyes open, hence eliminating the blind spot caused by closing one eye! Am I a better Trap Shooter? Yes, but I also have a better understanding of the dynamics of shooting trap and a great fitting shotgun. Whether I improve or not in this sport is up to me and how much time I spend practicing. So If you are serious about any of the Clay Sports, I highly suggest you come and visit Tom and Jean Hostetler at Shooters Solution, LLC. Tom and Jean,
Thank you! R. Rodriguez